RAINBOW MANIS AND PEDIS
We are proud to introduce our Rainbow manicure and pedicure Dubai collection- this is just for cheeky grown-ups, who are young at heart. Take a break from "adulting," and release your inner child.
Inspired by favorite fairy tales, retro toys, and nostalgic childhood memories.
This collection takes your mani and pedi experience to a whole new level. Each is a unique experience you will never forget- a celebration of whimsical fun.
This extravaganza of manis and pedis might be quirky and playful but they pack some seriously strong beauty benefits.
All of our rainbow manis and pedis are safe:
Non toxic
No harmful chemicals are used
100% biodegradable
Not tested on animals
Environmentally safe.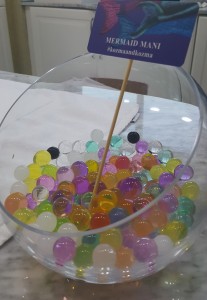 All Below Pricing Including Vat
Mermaid Manicure – AED 160
Under the sea fun. Hands are immersed into mermaid water filled with fun caviar and clam-shell pearls. A full signature mermaid manicure is given.
After your mani, relax as you enjoy a hand massage with a nutrient rich moisturizing cream, and then a warm wax bath to create a soothing layered wax glove. This process is very hydrating.
Our delicate peach scented paraffin replenishes the skins optimum moisturizing levels for long lasting hydration, thanks to Vitamin E and Peach Oil. Formulated with Avocado Oil and Monoi Oil of Tahiti to improve the elasticity and smoothness of the skin.
When finished, your hands will feel amazingly soft! Before you swim away, we'll finish everything with a perfect polish.
Mermaid Pedicure – AED 185
Calling all sirens of the sea!
With our mermaid pedi, feet are soaked first in mermaid water filled with caviar and clam shell pearls, specially formulated to promote moisture and improve the look and feel of your feet. Next, a signature pedi is given. Special attention is paid to the exfoliation of the scales and calluses with marine salts.
Relax on your throne as queen of the sea, your therapist will massage your feet with a hydrating rich lotion, and then she'll dip them into a warm wax bath to create a soothing layered wax sock.
She will wrap your feet in cotton, and place them into a warm and cozy mermaid tail blanket, which magically transforms you into a gorgeous mermaid (selfie time!). This process is very hydrating- our paraffin wax contains energizing and stimulating powers provided by ginger and thyme essential oils, as well as tea tree oil. When finished, your feet will feel amazingly soft!
We conclude the magical mermaid pedicure process with the perfect polish.