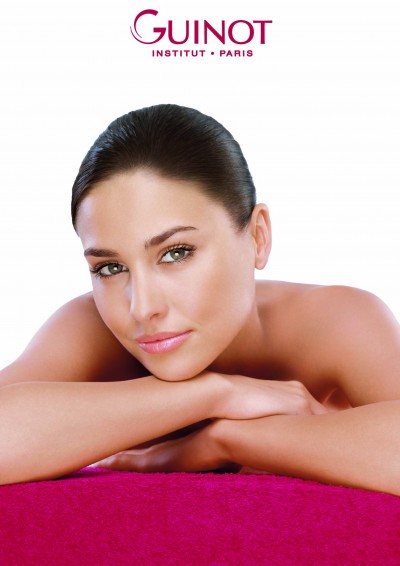 Your face deserves the best care available. This is why we o­ffer GUINOT, the highest quality skin care and facial brand in the world. Guinot is the most sophisticated and superior facial company who leads the skin industry with technology and science.
Your face reflects your emotions, but is also a map of your history. Stress, pollution, the elements, lack of sun prevention, e­ffects of ageing, hormones, lack of sleep, going to bed with make-up on… all cause the skin to lose vitality and reveal signs of fatigue.
Our expert estheticians are trained to read the face, and to understand and correct imbalances. If you like, you can meet with one of our Guinot Gurus for a complimentary consultation, prior to booking your facial. She will analyze your skin, determine your current skin-type, and discus with you a facial that will meet your skin's needs.
Beautiful skin is clear, balanced and healthy. Protect and nurture your face with a facial from Kozma & Kozma.
All Below Pricing Excluding Vat
GUINOT Liftosome Treatment AED 285
Recommended over a course of 6 consecutive weeks for optimum results. Pre-pay for a course of 6, and pay AED 1,450 (save 15%)
(Please allow 1 hour)
Our clients at Kozma & Kozma have nicknamed this facial the "Fountain Of Youth." Best suited for mature skin types. With age and fatigue, the skin slackens and loses tone. The rejuvenating liftosome facial acts to re-define facial features, the benefits include lifting, toning and tightening skin. Designed as more than a "lifting" treatment, the Liftosome facial acts on two levels: inside the cells to stimulate collagen and elastin, and on the surface of the skin to smooth fine lines and tighten the skin. Enjoy youthful looking skin thanks to the key ingredient Pro-collagen concentrate. This concentrate directly targets skin to repair damage. This marine-derived collagen is applied underneath a thermal mask which warms upon contact to the skin to help the penetration of this pro-collagen concentrate. Anti-ageing Vitamin C and Peptide serum is massaged into the face, neck and décolleté to help restore surface elasticity, while minimizing ‑fine lines and wrinkles, smoothing the skin and rejuvenating the cells, stimulating cellular regeneration.
GUINOT Hydradermie Lift AED 350
Recommended over a course of 6 consecutive weeks for optimum results. Pre-pay for a course of 6, and pay AED 1,785 (save 15%)
(Please allow 1 hour, 15 min)
With age and fatigue, the contours of the face become heavier and less defined pronouncing the signs of ageing. Hydradermie Lift provides a 'youth revolution' by stimulating facial muscles to give them new tone and exert a lifting effect on your facial features. As the beauty therapist expertly moves the roller balls using a low frequency micro-current over the face, tension vanishes, proper circulation is re-established and toxins are eliminated. The muscles are then gently exercised to regain volume and tone, acting like a gentle body building session. The treatment is completed with a modelling massage and lifting mask to nourish, revitalize, firm and further tone the skin.
GUINOT Hydradermie Treatment "Double Ionisation" AED 350
(Please allow 1 hour, 15 min)
"Double Ionization" is recognized internationally as one of the most technologically advanced skin care treatments. Unique to Guinot, this advanced procedure using a galvanic current from the Guinot machine increases the penetration of both positive and negative ions, and aims to correct skin problems from the inside, out. This new approach thus enables the penetration of active ingredients with negative polarity, such as hyaluronic acid, vitamin E, vitamin F, vitamin C, salicylic acid, fruit acids and amino acids. Double ionization electrodes have been designed to increase treatment precision, allowing specialized products to deep cleanse and re-hydrate to the deepest layers. Next, high frequency action is used to oxygenate and energize the cells, as well as create an antibacterial effect. A customized mask and relaxing massage completes the treatment, leaving your complexion balanced, healthy and glowing. With a specific gel serum for every skin type, everyone can benefit from this customized treatment.

GUINOT Aromatic Visage Facial AED 275
Recommended at least once monthly for optimum results. Pre-pay for a course of 3, and pay AED 700 (save 15%)
(Please allow 1 hour)
Lose yourself in a tantalizing world of fragrant herbs, plants and flowers. This soothing facial is relaxing and therapeutic, promoting wellness. In addition to cleansing, this personalized facial includes high quality essential oils for each of the different skin types, facial massage, a biological peeling radiance gel which removes dead skin cells, dull skin and toxin build up, and ends with an aromatic refreshing cooling masque. Offers instant beautiful results by oxygenating, calming and hydrating the skin.