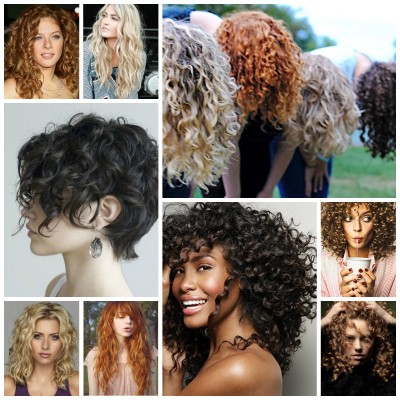 Calling all naturally Curly and Wavy Women! Our salon is proud to offer a range of services that nurture curly hair!
We are now the only Curly Hair Experts in the region!
We bring you the very best techniques and knowledge in curl care. Curly hair demands to be treated differently than other hair textures, therefore every stylist in our salon has undergone extensive curly training, and have been specially trained in cutting, coloring, styling and caring for curly hair.
Lucky you! If you have natural curls, or natural waves, you have got built-in volume, and beautiful unique texture. Unfortunately, the majority of women were never taught how to care for their curly hair. This results in fighting curls, fighting frizz, craving straight hair -and doing whatever possible to achieve it, resulting in frustration, lost time, money down the drain, and hair damage. FACT: 65% of all women have naturally curly or wavy hair.
When you visit us for your curly or wavy hair, not only will we encourage you to embrace and celebrate your authentic hair texture- we will teach you the fundamentals of daily hair care and styling.
All Below Pricing Excluding Vat
Curly Lesson, Hydrate and Style
AED 200 (Only 100 AED when booked with a color)
Please allow 45 min
We will teach you the Do's and the Don'ts of working with (not against!) your curly hair. In this lesson, we hydrate and style your curls for you, providing a demonstration. Our method of working with curly hair is revolutionary and completely different than your mainstream "Just Scrunch With A Diffuser". Allow us to educate you on everything you never knew about your curls- it might just change your life!
---
Curly Hydrate & Style
AED 175 (Only 50 AED, when booked with a color)
Allow 30 min
You have already been our curly customer, and have received the lesson. Now you would like to have your curls beautifully hydrated and styled. Come in to just receive the hydration and style, or add it on to any hair service.
Please note, this may only be booked after you have had a curly lesson.
---
Kozma & Kozma Signature Curly Cut
(Includes Lesson, Hydration, and Style)
Please allow up to 2 hours
Curly hair demands a different approach, and with the right curly cut, your hair can be breathtakingly beautiful. Our qualified stylists have been trained to cut curly hair. They have studied and developed several approaches to the proper cutting technique based on your personal preferences. The Curly Cut begins with a careful consultation with your stylist, where we will determine the best plan of action- a dry cut or a wet cut. The first question you will be asked is whether or not you wear your hair only its curly state or do you like to change it by wearing it straight sometimes?
We offer two options of curly cutting, that way we can tailor our techniques to your specific needs.
The first is a dry cutting technique, and is an award winning and revolutionary method for cutting curly hair. The hair is cut dry, and we cut the hair in it's natural form, curl by curl. This is the most ideal technique, if curly hair is cut wet, the spring factor will be manipulated, and misinterpreted. This unique form of cutting allows the stylists to sculpt each client's hair, according to their individual look, curl formation, and style. We preserve the integrity of each curl.
The second option of curly cutting is wet cutting. This allows the clients more options, such as wearing hair straight and is ideal for clients who cannot commit to wearing hair curly 100% of the time.
Includes hydration. We finish with an intense self-care curl lesson to take your amazing curls beyond the salon.
| | | |
| --- | --- | --- |
| Kozma and Kozma  Signature Curly (dry/wet) | Price | Stylists Names |
| Signature Curly (dry/wet)- A | 325AED | Samantha / Holly / Terri-Leigh / Yasmine |
| Signature Curly (dry/wet)- B | 350AED | Natalie / Julia |
---

Curly Refresh Cut
Please allow up to 2 hours
You have already been to us for the initial Signature Curly Cut which included a lesson on all things curl related. We already taught you how to care for and style your curls, so now you just need those curls freshened up! Includes a cut, hydration, and style. This is the perfect time to ask your stylists any questions that might have come up while you were styling and caring for your curls at home with the method we taught you, and ask for more advanced tips! Please note, this may only be booked after you have seen us for your first Curly Cut, and may only be booked at your stylists discretion.
| | | |
| --- | --- | --- |
| Curly Refresh Cut (dry/wet) | Price | Stylists Names |
| Signature Curly (dry/wet)- A | 275AED | Samantha / Holly / Terri-Leigh / Yasmine |
| Signature Curly (dry/wet)- B | 300AED | Natalie / Julia |
---
Curl Hand Painting- Coloring Curls
AED (please see highlight pricing)
We have a sophisticated method of hand painting color. This technique was designed to replace conventional highlighting. This method captures and defines the movement and dynamism of each curl, allowing the colorist the freedom to trust their own artistic eye, creating the perfect balance between tone, and shape, light and shadow- amongst your curls. We use biodegradable papers during this process.