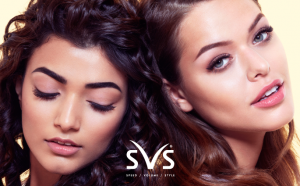 Introducing a brand-new treatment to our expanding lash services…..
SVS
! This amazing new treatment has just hit the Gulf market after doing extremely well across Europe and we are excited to be offering these beautiful fluffy volume lashes to our menu.So, what is SVS? It stands for Speed Volume and style! Unlike typical eyelash extensions, where the lashes are applied using a 'one-to-one' method, SVS involves the application of multiple lashes to each individual natural lash, creating a fuller, more dramatic look in less time than usual volume Russian layering which can sometimes take up to 3 hours.
The application method requires your technician to create 'fans' from each lash, to create a fuller appearance. Each fan is made up of 3 different length lashes which when applied creates a fluffy, textured look, as opposed to the uniform lengths of a Russian Volume lash, which creates a more dramatic, dense look. Each 'fan' is made to the requirement of the client, which is up to 3D.

What the experts say "SVS is a more natural, soft volume look compared to the usual Russian Volume which is a very dense, 'strip lash' look."

SVS lash full Set – OMR 45.0
Please allow 60 Minutes – 90 Minutes

SVS lash Half Set – OMR 22.5
Please allow 60 minutes

SVS lash Quarter Set – OMR 15.0
Please allow 30 minutes