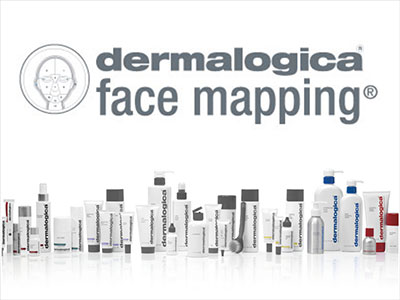 Dermalogica Facials
Dermalogica is a world famous skin care line, trusted by professionals, loved by clients. What does that mean for your skin? Real Treatments. Real Answers. Real Products. Real Results.
Face Mapping Skin Analysis
FREE (Please allow 5 minutes)
A professional consultation that reveals your skin's past, present… and healthiest future.
Dermalogica Facial 
OMR 30.0 (Please allow 60 minutes)
Good for all skin types. This facial can address your skins needs and target oily, dry, dehydrated and sensitive skins. The facial includes a cleanse, tone, scrub, massage, mask and moisturizer- all tailored to suit the clients concerns and the needs of the skin.
Purifying Facial 
OMR 33.5 (Please allow 75 minutes)
Breakouts have finally met their match! Designed to be a medicated and deep cleansing facial specifically for acne and breakout suffers with problematic skin. This treatment is aimed at clearing blemishes and breakouts, controlling sebum production, repairing and smoothing skin texture. Although one treatment will help to clear and heal your skin, for the best results this facial should be every 1-2 weeks to combat the breakouts and help prevent future episodes. Course of 6 treatments, maintenance monthly after.
Age Smart Facial 
OMR 35.0 (Please allow 75 minutes)
Are the signs of aging becoming more prevalent on your skin? Wish to prevent and slow down the effects of aging? A facial designed to hydrate, firm and delay the onset of aging, perfect for clients of all ages who are concerned with skin aging or maturing skin. This facial will give your skin a revitalizing power boost to help firm, smooth, nourish, regenerate and energize the skin, and control biochemical triggers, while treating the signs of premature again and sun damage. The treatment consists of a cleanse, tone, scrub, massage, mask and moisturizer, extra complexes can be added to the facial, in order to target specific areas.
Mini Facial Microzone 
OMR 17.5 (Please allow 30 minutes)
This is a taster of the main Dermalogica facial in only half the time, good for busy lifestyles or people new to Dermalogica. This is the perfect pick me up facial. It consists of a cleanse, scrub/ peeling, mask, tone and moisturizer, all tailor suited to your skin needs.
Blackhead Relief 
OMR 17.5 (Please allow 30 minutes)
Another quick fix facial, perfect for oily and congested skins, the main focus is to purify the oily skin, reduce the sebum production and deep cleanse the skin. Extractions and steam are used.
Ultra Calming Facial Treatment 
OMR  32.5 (Please allow 75 minutes)
Red, itching, burning skin – don't conceal it. Control it! The Dermalogica UltraCalming facial treatment is a serious relief for sensitized skin that calms, soothes and replenishes the most aggravated, irritated and inflamed skin. By targeting the triggers behind redness, itching and stinging, this treatment will help recover skin health for long-term relief from flare-ups.
Many of us describe our skin as sensitive but it may be that we have sensitized it due to the use of harsh products or treatments and this is where a professional's advice is so important to know how to improve our skin health in the long-term.
Dermalogica UltraCalming Facial can treat anything from a slightly sensitized skin right through to the most sensitive rosacea skin. We will adapt the treatment totally depending on the level of sensitivity you are experiencing. Our aim is to calm and soothe any redness or irritation while hydrating a parched, dehydrated skin ensuring we deliver the best facial we can for all sensitive skins.
Intensive Extraction Relief
OMR 5.0
Suffer from congestion, blackheads and blocked pores? Sometimes during a facial, it doesn't seem you get enough time to really remove and clean all that build up. Now you can opt to add an extra 15 mins to focus solely on really deep cleaning and extracting out all these pesky impurities!
If you know you need a lot of blackhead relief during your facial session today, opt to add this service on, if you are not sure our facial therapists will gladly advise you during our through skin analysis to cover all your skin needs.